The 50th anniversary of JKF's death seems an appropriate time to share some pictures from a visit I made earlier this year to the Reading Room of the Sixth Floor Museum in Dallas.  The Sixth Floor Museum at Dealey Plaza chronicles the assassination and legacy of President John F. Kennedy from its location in what used to be a warehouse known as the Texas School Book Depository.  Lee Harvey Oswald worked at the Depository and is alleged to have fired the shots that killed JFK from a corner window on the sixth floor.  The museum encompasses the 6th and 7th floors and is a very moving exhibition chronicling the events surrounding the assassination as well as JFK's legacy.
The picture, below, is the view from the 7th floor of the building overlooking Dealey Plaza.  The next is a model of the event which is on display in the museum. It shows the path of the three bullets that were fired.  The first black car is the one in which JFK was riding.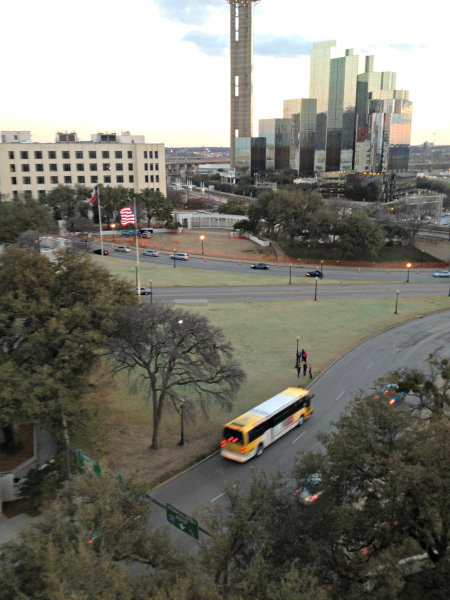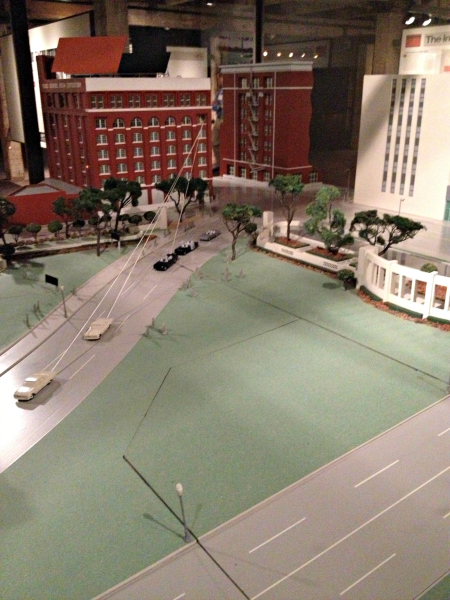 The Reading Room
The Reading Room provides access to more than 6,000 books, magazines, newspapers and videos covering a broad range of topics from Kennedy's life and legacy to 1960s pop culture.  It is accessible only by advance appointment.
On display for our visit were items one would expect to see in a collection like this such as newspapers and magazines from the period.  Less expected was the copy of Ian Fleming's Goldfinger and other novels which, at first glance, seemed to have nothing to do with JFK.   According to our guide, they are books that were checked out of a library in New Orleans by Lee Harvey Oswald.
The stacks at the Reading Room are closed but are viewable behind glass walls.   Access to the collection is available through the Reading Room website.   The website also provides access to the JFK Assassination Timeline which is an amazing multi-media presentation of the events leading up to the assassination and the decades that followed.   Even if you are not able to visit the museum and Reading Room in person the timeline is a great way to access the information in this unique collection.  Absolutely worth a visit either way.