When traveling with young bibliophiles, eventually, even the most cooperative will rebel and refuse to visit one more library, bookstore or museum. When that happens, amusement parks can be a good diversion, at least in our family.  I'm not talking about Disneyworld and the like but rather the more unique, local parks that don't require a major commitment of time or budget  e.g., the Prater in Vienna, Rainbow Magicland near Rome or – my personal favorite –  Parc Astérix in France.
Parc Astérix is a theme amusement park based on the popular comic books of Asterix and Obelix by Albert Uderzo and René Goscinny. Asterix and Obelix are two brave Gauls resisting the Roman army.  Situated approximately 35 km (22 mi) north of Paris, it's an easy day trip from Paris using the shuttle service that operates from Charles de Gaul airport.   There is also a direct bus from the center of Paris but you have more flexibility with the CDG shuttle as it operates more frequently.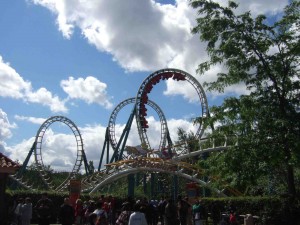 Parc Astérix offers a variety of rides as well as live shows.   The shows are in French (bien sûr!) but still entertaining even if your french language skills are lacking.   Food is available and is about what you would expect to find in an amusement park.   The park is only open from April through October and is absolutely worth a visit if you're looking for a unique experience that will definitely be different than a visit to Disneyworld.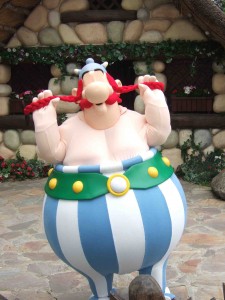 Website: http://www.parcasterix.fr/en