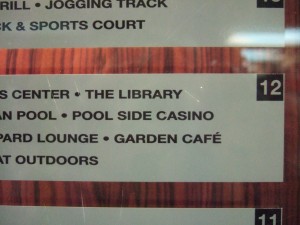 I had the opportunity recently to take a tour of the Norwegian Gem while she was docked at Pier 88 in NYC.  I was intrigued to see The Library listed on the Deck 12 directory, in  good company with the Fitness Center and poolside casino.
I made sure to visit before I disembarked and I'm glad I did.  I was impressed with the library, not necessarily the depth and breadth of the collection, but its good location on busy Deck 12 (right next to the Yin and Yang Spa with its heated spa beds – ahhhhhh –  pure bliss) and its welcoming atmosphere.
As someone with an unnatural fear of cruising, I'm not sure this would be my dream job, but I do think it seemed like a pleasant place to pass some time on board ship. There appeared to be the librarian's desk, although I don't know if the Gem has an actual librarian keeping track of things. Some cruise lines apparently do hire librarians. A recent post on INALJ featured an interview with Rebecca Volger who was hired by Holland American Lines as an onship librarian.
Just in case you wondered how to borrow a book.  And don't think about not returning it – $25 fine for that!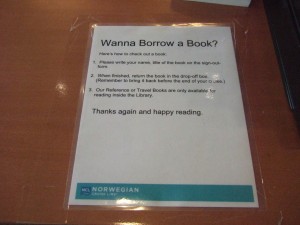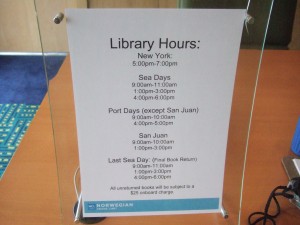 The collection appeared to be mostly current fiction although there were a few shelves of non-fiction coffee table books and a small children's collection along with a smattering of books in non-english languages. The common area also included game tables and writing tables with a view that certainly must have improved once the Gem left NYC.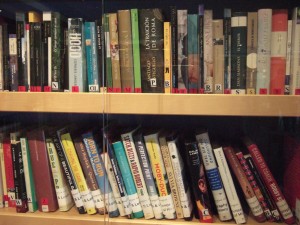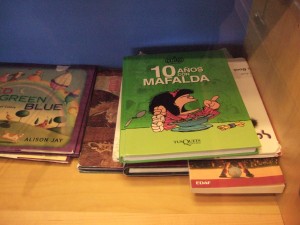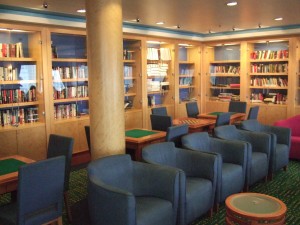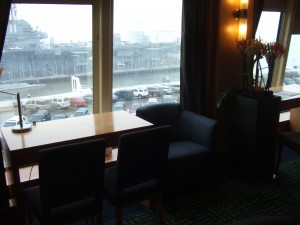 Even though the Gem was still in port, passengers were already making use of the library as a place to connect with each other (leis included) and virtually.
The Gem was headed to the eastern Caribbean this trip.  I was ready to stow away in spite of my cruise phobia.  I'd trade this: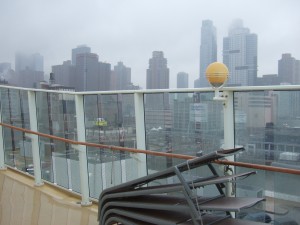 for the sunny Caribbean any day!