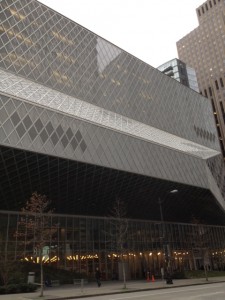 In honor of National Library Week I thought I'd share my recent visit to the Seattle Public Library's Central Library. The 11-story glass and steel building, designed by Dutch architect Rem Koolhaas in a joint venture with Seattle-based LMN Architects, is not without its detractors; I am not one of them.  I loved it.
Opened in 2004, the award-winning building has become a tourist destination in its own right.  I witnessed more than a few fellow travelers clutching their laminated maps (you can get them at the main floor desks) as they rode the chartreuse escalators up to the 10th floor where they were rewarded with breathtaking views through the glass honeycombed structure.  I'm not sure I could work there if I had a serious fear of heights.   I felt dizzy just visiting.
The use of color is a delightful contrast to the dreary Seattle skies that accompanied my visit.   From the chartreuse escalators to the Red Hall, the colors just seemed that much more saturated against the grey sky.  I would love to revisit on a sunny day to see if it left a different impression.
In a conversation with a staff member I learned that the sun can be an issue in a building like this and they have had to make accommodations since opening to deal with issues like screen glare, etc.
From the public art to the incredible views, to the collection and the cafe (it is Seattle after all) there are many reasons to make a pilgrimage to the Central Library part of any Seattle itinerary.
Check out my Pinterest board for more pictures.
Read more about the library here:
Seattle's new library. The Seattle Times